The organization is Oslo University Hospital, a large (1.850 beds) urban university hospital in the capital of Norway. The hospital is the regional center for a several emergency medical specialities, including being a level 1 trauma center, stroke center and PCI-center. The hospital is also the sole provider of prehospital emergency medical services in the region. The prehospital service is delivered through 60 ambulances, 3 physician response units (including 2 HEMS), 1 intensive care unit, 2 planes, an on-scene commander and a dedicated emergency medical operations center. Oslo University Hospital Prehospital Services responds to about 180.000 incidents a year, in a region of about 1.3 million inhabitants.
Simulation has been a game changer in our organization. Previously we have delivered generic training to everyone, but only meeting the needs of a few. With simulation we have had a multitude of positive effects. To begin with, staff feel that learning has become fun again. Through simulation it has been possible to a far greater extent to target learning to individual learning needs. Simulation uncovers both strengths and weaknesses in the individuals capabilities. That means facilitators can cater debriefings to the actual needs. This has not been possible with traditional teaching modes.
I think it is important to distinguish the needs of the young professionals from the seasoned professionals. Both groups reap benefit of simulation, but it is not necessarily the same. Young professionals get to close the gap between theory and practice. They also get to reflect and prepare for scenarios they have yet to experience in real life. Seasoned professionals however, get to go back and reflect on situations they may have seen several times in real life. However, they now get the chance to see their own previous experiences in a new light. Seasoned professionals also regularly uncover knowledge gaps or weaknesses they did not realise they had. These discoveries gives them the chance to catch up with forgotten knowledge.
Through other Norwegian customers Skillqube has been recommended to the Oslo University Hospital.
There are several high-end multimonitor-/defibrillator-simulators on the market. At the time of purchase, the Qube15 was considered to have the superior hardware but with an app that has a very short track record. However, knowing the company, we were confident that immaturity-issues in the app would be rapidly dealt with.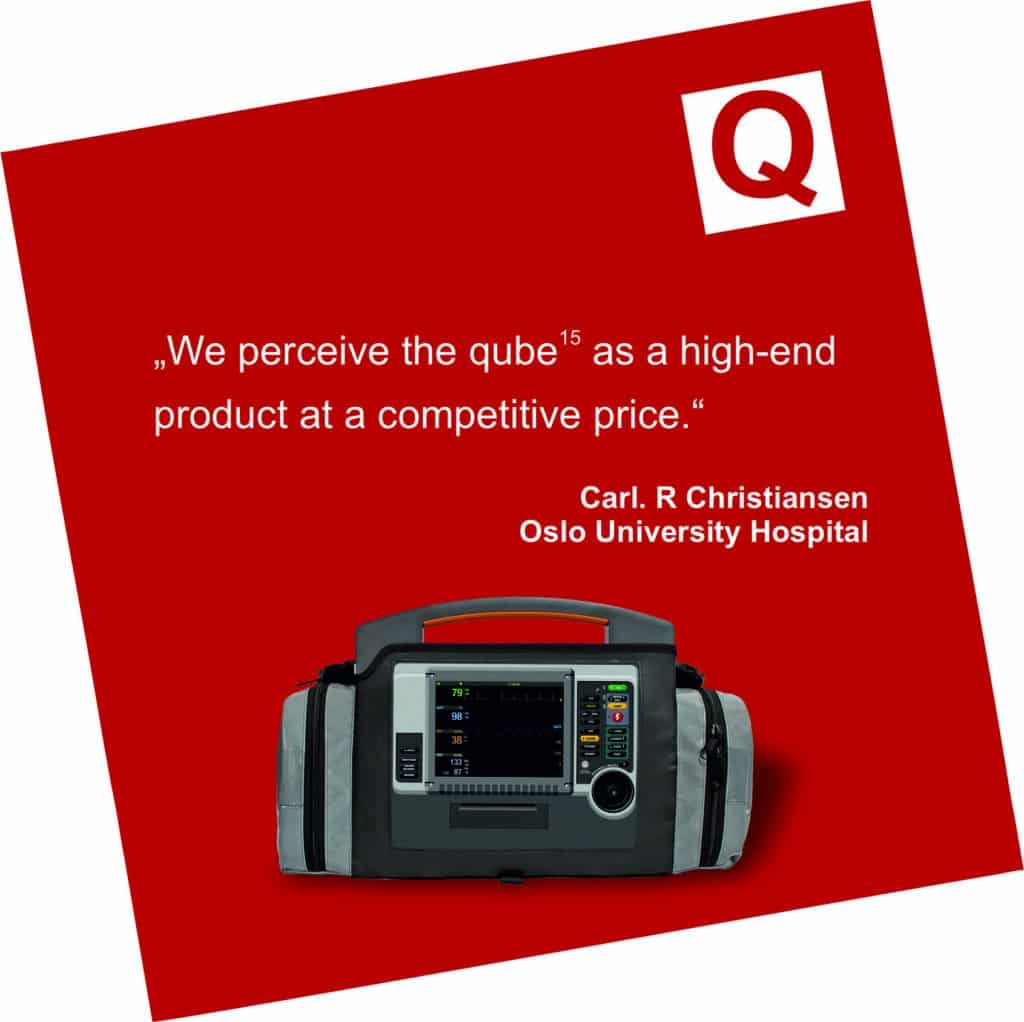 Skillqube has proven to deliver swift and professional service. Any concerns or difficulties we have had, have been expediently solved. Skillqube has also adapted the software to our specific needs. They have been very attentive to our needs. Skillqube also delivers training and provides a range of training products. They are, in overall, very knowledgeable about simulation. For us, that has meant knowledgeable service and a good understanding of our needs.
Thanks a lot to Carl Robert Christiansen from the university hospital for the time to tell about simulation with the qube15 in the organisation. On the one hand he works in a prehospital Critical Care Team, together with an anaesthesiologist, responding in a fast response vehicle to high acuity calls. On the other hand he works as a senior training and development officer. My role there is to develop training material and concepts, which I also implement in the organization.
---